Happy Labor Day weekend my friends....
It's been a long time since any type of update was done. I've lost my paper-crafting bug but somehow found a stitchy-bug with vengeance. My sweetie laughed at me when I told him I was 'cross-stitching' and he said I couldn't 'cross'-stitch because I'm Jewish....so I now lovingly refer to it as x-stitching. Silly!!!
I have four works-in-progress (WIP) and have updates on all of them. Let's get started:
First (in no particular order) is my Dressmaker's Daughter by Mirabilia. I had lost interest in this and didn't like the colors of the Winter portion. The lavender against the fabric color just didn't do it for me....but I decided to keep going and now I love how it looks. The spaces you see within the stitching will be where beads will be added....I'm doing all the beading at the end so they don't get crushed by my frames/hoops.
This is where I was last time
This is where I am now. Sorry for the wrinkles.








The second WIP is my Save the Stitches by Liz Almond Blackwork Journey. This is a huge project with over 24 'blocks' of patterns each with 4-5 patterns within. I'm not sure I'll do the entire piece but as long as I'm enjoying it I'll keep going. It's a nice change from doing all the little 'x's'.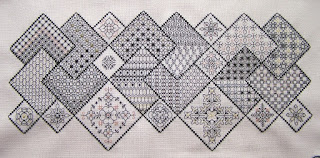 This is where I was before.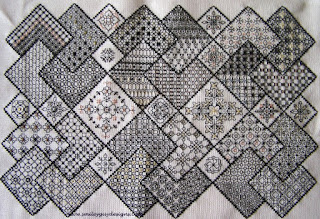 This is where I am now.
Third is my Blue Dragon by Heaven and Earth Designs designer Kayomi Harai. This is another huge project (nothing too small for this gal). It's a fun stitch but definitely intense.
This is where I was.


This is where I am now....gotta love his fierce face....but now he's staring at me!!!!
My last WIP is my Twisted Band Sampler by Northern Expressions Needleworks. I find that I really enjoy doing sampler work. I'm almost done with it....just the blue bands and the purple bands left to do.
This is where I was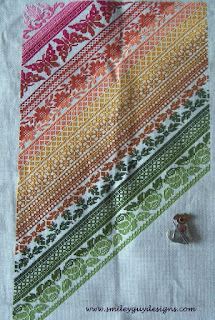 This is where I am now. Again, forgive the wrinkles.
Luckily I'm almost finished with one of my WIP projects because next week I'm starting a new project with a group of stitchers from the Facebook group 'Cross Stitch and Discuss'. It's called a SAL which is a stich-a-long. We all start the same project (Raven Queen by Mirabilia) on the same day and support each other along the way with photo updates and discussions on any issues we may come across. Can't wait to start. Doesn't she remind you of Maleficent?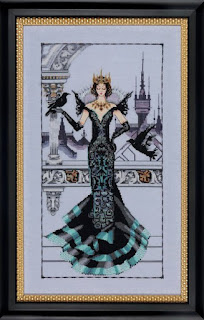 Have a safe Labor Day weekend everyone and thanks for stopping by.
Heidi