Hello my friends! Happy Monday! I have an Action Wobble inspiration post for you today. I'm using a stamp set and matching die from Stampendous called 'Cling Pop Up Kitties'. No coloring on this card at all....it was made just using die cuts and punches. The papers I used are from an older BasicGrey paper pad called 'Max and Whiskers'. The sentiments are from a stamp set called 'Cat Sayings' also from Stampendous.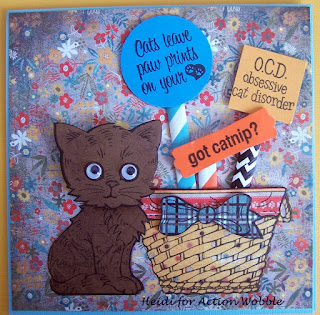 Here is a close up of the actual action wobble behind the kitty's head.

Here is my attempt to show you the action wobble in action.....to me the googly eyes make the kitty look drunk - or maybe just a bit frightened!!!!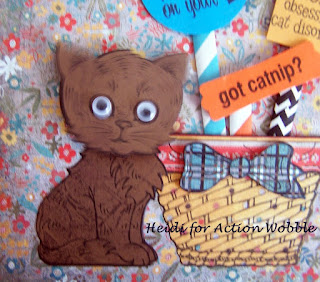 If you don't have any Action Wobbles hop on over and
SHOP HERE
The Action Wobble challenge blog hosts a new challenge every Wednesday.
Thanks for stopping by!
Heidi