Hi gang! Sorry I've been MIA lately.....life has been busy. My day job is keeping me busy, my Mother (who lives with me) has kept me busy with doctor's appointments and I've been working on many projects for an upcoming deadline with CardMaker Magazine.
Speaking of my Mother's doctor appointments, she was scheduled for a stress test last week. When the doctor told me about it all I could think about was my Mother on a treadmill running....and THAT would never happen....she can bearly walk let alone RUN. Then the doctor said they can do the stress test by giving her medication that will make her heart THINK it's been running on a treadmill. Well that makes much more sense! She did wonderfully and the results were geat - good job Mom!!!
One of my friends from work said what they should do is give my Mother a bunch of complex math problems with a limited amount of time to solve them and then watch her stress!!!! LOL!
For today's post I've got some cards I made a while ago and because they're a little older I don't quite remember specifics about supplies, etc.
I really liked this card because I love black and white with a little pop of red.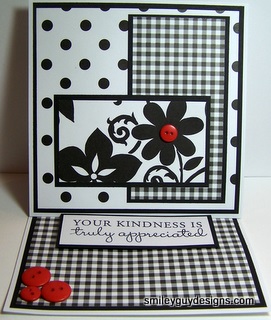 This one is so spring-y and I love the greens and the orange satin ribbon.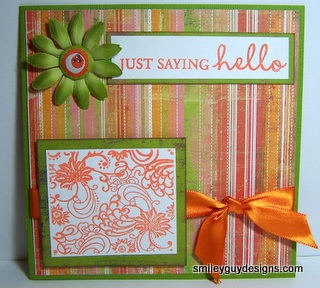 I like this one because of all the bright colors as well as the bold black and white. I do remember this paper is by SEI.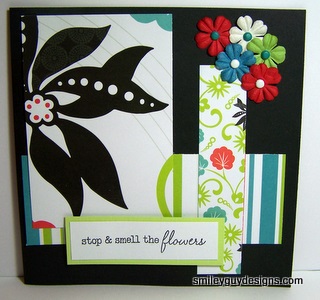 That's all for now...thanks for stopping by.
Heidi