Hello everyone! I hope everyone had a fabulous and safe 4th of the July. Unfortunately I've been so busy I was unable to craft a holiday card...and I had some wonderful papers and stamps to use. Drats!
The project I have to show you today is a sympathy card I made for a friend of mine at work who lost her father just recently. It's always so much fun to create the bright, colorful and fun cards for people, so creating a sympathy card makes you think outside the box. Having lost my sister back in 1993, I remember getting all those sympathy cards in the mail and how they made me cry. I seemed to keep things under control until someone expressed concern and then I'd burst into tears. I tried really hard to create a card that would express my condolences without starting the waterworks. I thought by creating a 'remember memories' card instead of a 'sorry for your loss' type card it might save some tissues.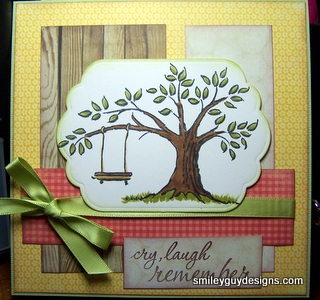 The papers are from My Minds Eye Miss Caroline 'Howdy Doody' collection. The stamps used are from Stampendous 'Cling Tree Swing' and Hero Arts 'Remember' sentiment collection. The tree was colored with COPIC markers (didn't keep track of colors but they were just basic brown for the tree trunk and green for the leaves/grass).
I never used to finish the inside of my cards, I used to just slap a sentiment on the inside and be done with it. But I've been following a blog called
www.prairiepaperandink.typepad.com
and Amy always finishes the inside of her cards and I really like that.....so I've been trying to do that with my cards too. She always uses matching patterned papers and uses a piece that can be used to write a note. It can be a separate piece of white or other light colored matching paper.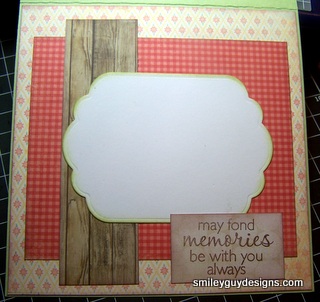 Thanks for stopping by - see you again soon!
Heidi