Happy New Year my friends! I hope everyone rang in the new year with family, friends and tons of fun! My evening was quiet. which I happen to like. I enjoyed some adult beverages in the quiet of my own home so no worrying about drinking and driving. I had some little party snacks as well and once I watched the ball drop on TV in Times Square I was pretty much out like a light!!!
I grew up in Florida and everything seems geared towards the Eastern Time zone. And New Years Eve (NYE) celebrations are no exception. All the national TV shows (who besides me is going to miss Dick Clark?) represent the East Coast so when it's midnight everyone hoots and hollers and kisses and sings and just goes nuts! When I moved to the midwest (Central Time zone) I had to start subtracting that hour difference from Eastern Time. To date, when I think about when a show is on I think of what time it came on in Florida and subtract an hour. If it was a prime time show that came on at 10pm then it comes on at 9pm here. Can you see where I'm going with this? When it's midnight on the East coast, it's only 11pm in the Midwest. So for the past 14 years now, while watching the celebration from Times Square it's only 11pm where I am....it's so sad to see the confetti, the kissing, the singing, etc. and know it's not the new year yet. While there may be local shows from say, Navy Pier in Chicago, it just doesn't have the same fan fare.
But on the flip side (I know, there are always two sides to every issue) - in Florida I watched the news at 11pm and couldn't go to bed until 11:30 or so. But in Kenosha, the news comes on at 10pm so I can watch and be in bed by 10.30.
Okay, enough about that!!! I have some good news and some sort of disappointing news to share with everyone.
(1) I've already posted this on Facebook - I was selected to be part of the Caring Design Team for an organization called Sunshine Mail.

Their mission is provide children in need comfort, support and joy through free Sunshine Mail care packages. Sunshine Mail is filled with handmade cards, care essentials and other age appropriate items and delivered to children in hospitals, homeless shelters and in foster care.

I'll be updating my blog periodically with cards and other information all relating to Sunshine Mail.

(2) I've also been selected to be a guest designer for the Red Carpet Studio card design team. It's only for a month and my month is March. So from March 1 - March 31 I'll be creating two card projects that fit the current challenge requirements and posting them on my blog. I'm pretty excited about this and can't wait to find out (in February) what the challenge will be.

Now for the disappointing news.....I submitted a couple of cards to CardMaker Magazine for their Fall 2013 issue and neither one was selected for publication!! Oh no.....say it ain't so!! Oh well, sometimes you win and sometimes you don't. Since they weren't selected I can share them with you now.

The first one used a die from PaperTrey Ink to die cut the actual pumpkin card and then a separate die to die cut the pumpkin slices. The category for the card was to use texture - so I used textured cardstock from the Two Scoops collection from Bazzill Basics Paper. The sentiment is also a die from PaperTrey Ink.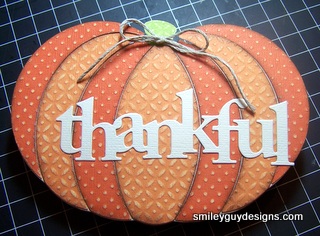 The second card used patterned paper from the Apple Cider collection from Bo Bunny. The same die set created the 'Blessed' sentiment as the 'Thankful' one above.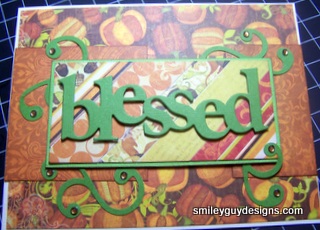 That about does it for me today. I hope everyone has a great 2013! Thanks for stopping and I hope to see you again soon.

Heidi