Hello my friends. Before I get into the card challenge this month I'd like to discuss something. Some of you may recall that my 82 year old Mother lives with me and it's been quite the wild ride for the last 18 months. Last week she went into the hospital to have bypass surgery on both her legs to improve the blood flow to her feet. She's been in ICU going on 8 days now. She's recovering from the surgery perfectly but has developed pulminary/respiratory issues as many patients do, especially those of her age. I've been with her every day in ICU and as I remembered that I needed to update my blog with this new challenge for the Sunshine Mail Foundation it hit me.....what a wonderful thing Sunshine Mail is.....how wonderful it is to have patients, especially children, in a hospital receive happy cards. Any child that is ill and perhaps confined in an ICU unit is unable to receive flowers and such....but cards can always be delievered. It makes me very happy to be a part of this wonderful organization. Okay so on to the card....
A Day for Daisies
is the wonderful sponsor for this Swing Into Spring challenge. I love the images because they are very simple, yet detailed and are great for coloring.
This digital image is called Spring Flowers for Growing and I thought it was perfect for this challenge. If you haven't tried digital images before you really should. They are so easy to use. You receive them immediately, can resize them and also flip the images. I could have flipped her so that she was facing left. That's a great advantage when you want to do mirror images or need to situate the focal point left or right.
My apologies up front because I didn't write down the supplies I used to make this card. I colored her with COPIC markers and used a Spellbinders Label die to cut out the image and the mat. The sentiment is from a PaperTrey Ink set and the flowers are from my stash. I can't remember the paper pad used.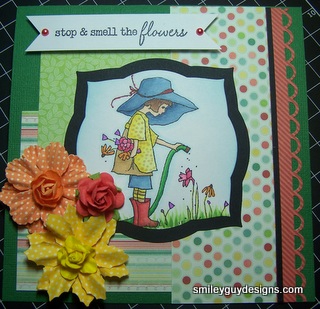 If you would like to participate in this challenge (which runs through the end of March) check out the
Sunshine Mail Challenge Blog
. It should be updated with this new challenge starting today, 3/15.
Just a reminder as to what Sunshine Mail is in case you're unfamiliar with this great foundation.....Sunshine Mail Foundation, a 501c3 nonprofit, provides children in need comfort, support and joy through free Sunshine Mail Care Packages. Sunshine Mail is filled with handmade cards, care essentials and other age appropriate items and delivered to children in hospitals, homeless shelters and in foster care.
Check out their website:
Sunshine Mail Foundation
Thanks for stopping by and hope to see you again soon!
Heidi