Hello my friends. I've been following Nichole Heady's blog [capture the moment] and Papertrey Ink for a while now. I love the products from Papertrey Ink. Every Monday they run a new challenge and I've always wanted to participate. Well, I've decided to bite the bullet and try one. The prize is a $25 gift certificate to buy anything you want from the store. YA-HOO.
This week the challenge is to use multiple stamps to create a collage background. If you go the [capture the moment] blog you can watch a fabulous video from Dawn McVey on how to create a collage background. Her card is gorgeous. Check it out here:
capture the moment
Here's the card I made for the challenge. I used a variety of ink colors from Stampin' Up (Crumb Cake, Tempting Turquoise, Wild Wasabi), Color Box (Chestnut Roan) and Papertrey Ink (Terracotta Tile). The stamps I used are from Stampabilities (dots). Technique Tuesday (floral border), the sentiment is from Papertrey Ink and the 2 step flower/leaf stamp is a retired set from Stampin' Up (but they have current ones that are 2 step stamps that you could use).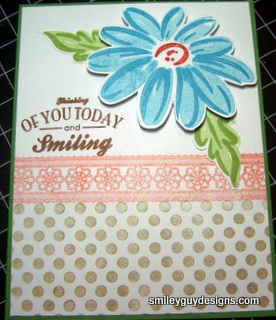 The challenge ends at 7am on Monday, 4/8 so you have a little bit of time left to enter. Good luck and have fun!
Thanks for stopping by and hope to see you again soon.
Heidi