Hello my friends.....hope all is well with everyone. It's the first week of June and the temperature in SE Wisconsin is back to 62 degrees. One day I can wear short sleeves and sandals and the next day it's a sweatshirt and sneakers!
Today's card is my entry for the
Sassy Cheryl's Challenge Blog
. If you haven't checked it out you should. Cheryl creates the cutest little characters - there's Sally and her pup Bella, Noah and Charlie and her newest additions, a brother and sister named Max and Maddie. I just love the images. The challenge this week is 'Perfectly Pinkalicious'. And since I love the color pink, I have to enter.
The image I chose is called
My Favorite Kind of Weather
. This little sweetie is Sally and the furry cutie is Bella!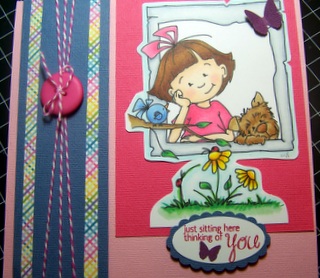 Thanks for stopping and hope to see you again soon!
Heidi