Welcome back my friends to February's monthly blog hop for the Crafty Chicks. If you've stumbled upon this hop here's the Reader's Digest version of who we are. We're a group of creative gals who met on the worldwide web and decided to come together and share out passion for all things paper crafty.
If you're coming from Julie's blog
HERE
you're in the right place. If you happen to get lost or want to see the full line up you can find it here by going to Krysthle's blog
HERE.
We have a wonderful sponsor this month. 3 Girl JAM is providing a $25 gift certificate to one winner who answers the following question - "Tell us the newest products released by 3 Girl JAM". Check out 3 Girl JAM's website
HERE
and add your answer to their blog for a change to win. Since the hop starts today, 2/7, you have until 2/14 to enter. Winner will be contacted on 2/15.
This month we're having what we call a 'Free for all' hop. You may know it as an 'Anything Goes' hop. You'll see a lot of great projects along the way. I have a baby card to show you. I have this really cute stamp set from Newton's Nook Designs. I stamped the images and then using masks, I inked all around the center piece with a couple of distress inks. The rays of the sun were made by running cardstock through an embossing folder, cutting into pieces and then cutting a banner edge to each piece. Easy peasy!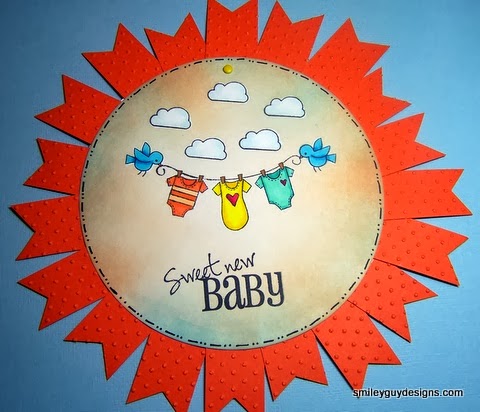 Then as a surprise I put another circle behind the main image, attached it with a brad and voila you now have a telescoping sentiment! I guess it wasn't much of a surprise since I really needed to cover all those glued pieces of sunshine rays!
The next stop in the blog hop is Renee and you can check out her amazing project
HERE
If you're having a good time with this blog hop make sure to follow us on our individual blogs, Facebook, or any other social media the designers have set up. Also, please feel free to share with your friends.
a Rafflecopter giveaway
Thanks for stopping by and I hope to see you again next month!
Heidi