Happy Monday everyone! I have another inspiration card for Paper Nest Dolls. I'm using the image called 'Princess Sweet Pea' and isn't she just the 'sweetest'? Gotta love those bunny slippers!!!!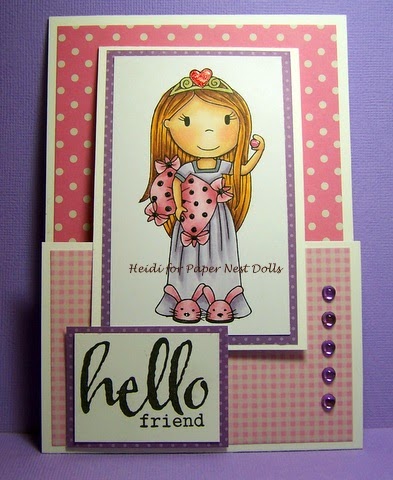 I thought I would do a card that folded a bit differently than your standard card. I think this type of card is called a Joy Folded card. The focal image is on a separate piece of card stock and the edge hooks under the sentiment to keep the card closed.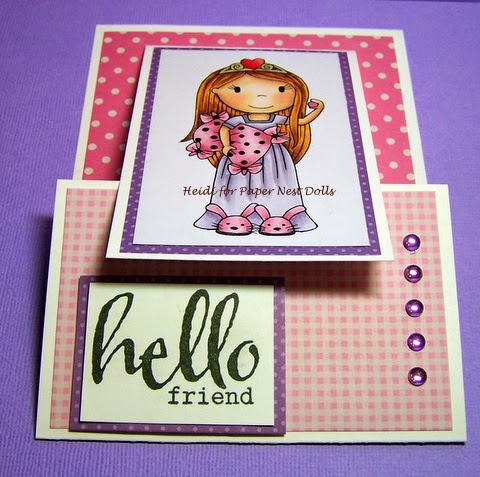 Then when you open the 'inside' of the card this is what you see...
Here's a close up of the image which I colored using COPIC Markers. I used Glossy Accents on the heart in her crown and on the pearl she's holding (which I just realized should probably be green like a pea...oops!). The polka dots on the pillow have Black Diamonds Stickles on them.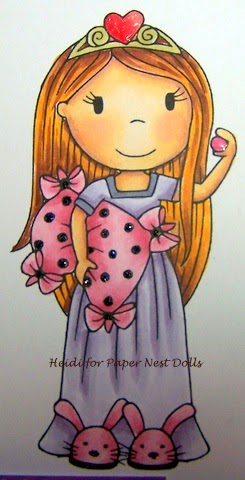 Here is a list of the markers used:
Skin: E04/E11, E21,E00, E000, R20
Hair: YR14, YR15, E15, E18
Dress: V28, V25, V22, V20
Pillow/Slippers" R85, R83, R81
Heart: R29, R24, R22
Crown: Y28
Other Supplies:
Princess Sweet Pea stamp by Paper Nest Dolls
Clear and Pink Zip Wink of Stella pens
Glossy Accents
Black Diamond Stickles
Lavendar rhinestones
Basics paper pad by Pebbles
The Big, The Bold and The Happy stamp set by Winnie & Walter
Phone4You stamp set by The Stamps of Life
Thanks for stopping by and hope to see you again soon.
Heidi