Hi everyone...sorry I haven't been around the last few days....I've been busy at work as well as trying to finish all I needed to in order to get my Christmas cards ready and mailed....I've finally finished them and they're ready to mail. If I don't get them mailed tomorrow I'll have to change them to Happy New Years cards...yikes - is Christmas really only 8 days away!!!! OMG!
What I want to share with you today are some gift tags and cards from holidays past.
These gift cards were some of my favs! I just love the little penguin, snowman and snowbird! I know it's hard to tell but there's lots of Copic markers and stickles for sparkles!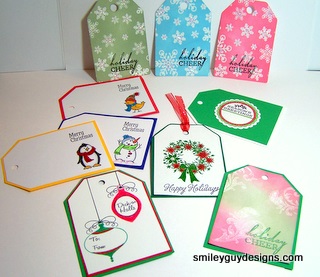 Here are some of the holiday cards. I've made a bunch of cards over the years and these are a few of the ones I still had left over in my stash. Of course I had to throw in a Hanukkah card for my Jewish friends.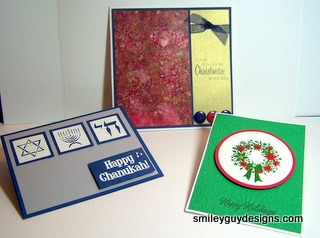 I don't know if any of you have played around with alcohol inks - the card standing up in the back has a large panel made with alcohol inks. I used glossy paper, an ink blending tool with a felt pad and a few drops of alcohol inks and some blending solution. You then pounce it around on the glossy paper until you get a look you like. I love the look of it. It looks great on glossy paper but you can use alcohol inks on other non-porous items like acetate or metal.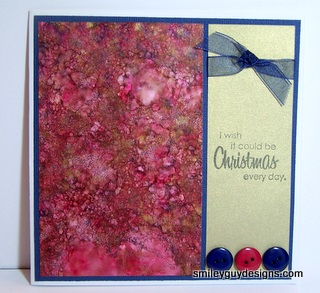 The last card is called an easel card. It's really fun to make and I like the fact that it's easy for the recipient to stand up and view. It folds nice and flat for mailing.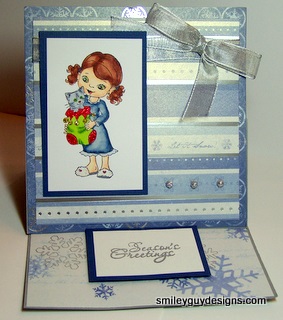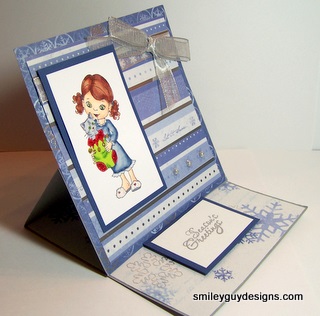 Hope you enjoyed looking at some of my favorite cards from holidays past. Hope everyone has a safe and happy holiday season. Hope to see you again soon!
Happy Chrisma-hanuk-kwanza-kah.....
Heidi