Hello friends! It's December and Christmas is just around the corner. I can't believe it's almost here. Seems like just yesterday we were playing golf and having BBQ's in the backyard on a warm, sunny day! Oh wait....that was me! Oh how I miss the warm, sunny days - and winter hasn't even officially begun yet. Yikes!
Since the holiday season is upon us....I want to show you guys what I made as little trinkets for my friends and co-workers. As posted in an earlier entry, I have a part time job at Archiver's and I also have a full time job for a large insurance company in Milwaukee. WI. I love to make cards and little treats for everyone throughout the year. I have one friend at my day job who stopped by my desk on December 1st and asked where this year's treat was....I replied that it was only December 1st. Wow, the pressure was definitely on....so I slaved all weekend....well, slaved may be kinda harsh - I did work hard to get these done...but they were lots of fun to make. In fact, I got so quick at making them I could score, fold and glue one box during a TV commercial break. Maybe I can petition to have box making an Olympic sport. Good thing they went fast too, because I had to make around 36 of them.....phew!!!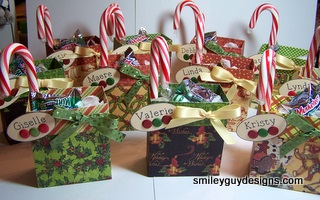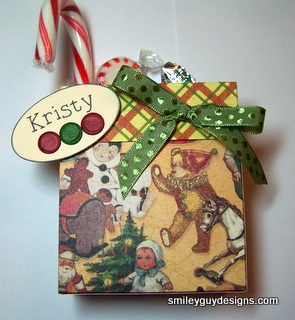 The boxes were all made from cardstock from the Graphic 45 'Christmas Emporium' collection. I absolutely LOVE these patterns. Some of the patterns were blacks and beiges which were great for the men on my list that may not have appreciated the girly patterns. I used almost the entire paper pack to make these boxes. I stamped everyone's name using an alphabet stamp set from Lawn Fawn called 'Smitty's ABC'. It's a nice, clean set of capital and lowercase letters. I have to laugh, I have such great friends who always come up with the best comments - another friend asked me how I managed to get everyone's name on the tags. I told her they have this new item on the market called an alphabet stamp set. LMBO!!! I also used Candi from Craftworkcards in 'Vintage Berrie's and 'Holly Berries'. The ribbon used was from my stash so I'm not sure of the vendor name. The Martha Stewart scoring board is an absolute joy to use to make all the score lines and the oval punch is from Fiskars.
Lastly, of course I filled the boxes with all the candy I love so if there happened to be any leftovers, nothing would go to waste...LOL! You can pretty much bet any leftover candy DOES NOT hang around too long!
I hope y'all enjoyed this week's post and thanks for visiting.
Heidi