Hope everyone survived Thanksgiving!!!! I had a pretty good holiday. In September I moved my 81 year old mother in to live with me so this was our first Thanksgiving together in probably 19 years. I made a small but tasty feast and I gotta tell ya, I've had about as much turkey as I can handle! It was all good but I'm ready for a nice juicy burger right about now.
Well now that Thanksgiving is officially over, I can begin to enjoy all the Christmas fuss....now I don't mind seeing Christmas decorations or listening to Christmas music. The decorations go up and the music seems to start earlier and earlier each year and by the time Christmas rolls around I just want to bang my head against a wall - so I tried to limit my exposure until at least after Thanksgiving.
Over the next several weeks I'll be posting some of the Christmas or Hanukkah cards I've made. The first card is of a Hanukkah card I made which was published in the November 2010 issue of CardMaker Magazine. There are so many different ways to spell Hanukkah (i.e. Chanukah, Chanukkah and Chanuka). The stamp set I used spelled it differently than I do but the sentiment is still the same. LOL!!!!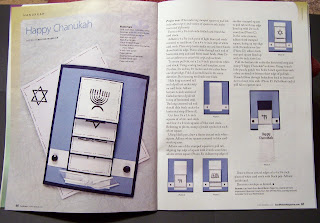 This card was the first card I submitted that was accepted for publication. I think I sent a total of eight cards for that particular submission request and was thrilled when they selected one. I received the 'we'd love to publish' email for this one right before I got the remaining 'unable to use' emails....at least the good news was received first. So far I've had four cards accepted for publication. All in CardMaker Magazine....no wonder they're my
FAV
magazine!!!
This type of card is called a waterfall card. When you pull the tail with the ribbon on it, the four little tiles flip like a waterfall. 

Since I made this card a year ago I don't have an accurate list of the supplies used. I do know the stamp set is called Jewish Greetings and it's from Impression Obsession.
That about it does it for this post...I hope you enjoyed seeing this.
Heidi