Today I want to say a special 'Thank You' to a friend of mine. She works with me at Archiver's and when I need someone to take a shift for me she pretty much will say 'yes' and always says it with a smile in her voice. It means a lot to me and I wanted to show her my gratitude....so I'm making a big shout out to VALERIE and posting a card I made for her today (well, it actually took me longer than today but shhhhh....she'll never know - she'll think I whipped it up in my spare time while watching TV, cooking dinner or doing laundry - LOL).
Valerie, thank you so much for taking some of my shifts at the store. So, while the card is posted on the blog for all to see....the actual card will be in your in basket at the store on Saturday.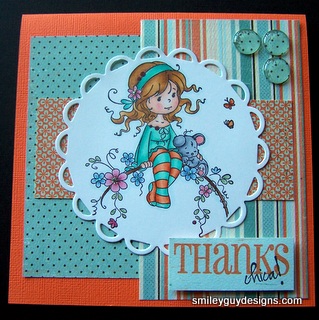 The stamped image is from Whimsy Stamps and is called 'Sweet Blossom' from the Wee Stamp Collection. The artist's name is Sylvia Zet and I have about 13 of her images. They are absolutely the cutest images I've seen in a long time. She has one little girl named 'Heidi' which of course I had to purchase. I had emailed the artist to let her know how cute I thought her stamps are and she's actually replied to me....that was pretty exciting! at least to me it was!
The sentiments are by AmyR Stamps manufactured by CC Designs. The outside one is from her "Handy Additions & Big Words' set and the inside one is from her 'Be Happy Sentiments" set.
The sweet little image is cut out using a Spellbinders Lacey Circle die and is colored with COPIC markers with just a touch of stickles on the flowers. The little custom epoxy shapes in the upper right hand corner were made with the Epiphany Crafts Shape Studio
I hope you like it Valerie and again - thanks for being my friend!!!
Thanks for stopping by!!!
Heidi