Hello my friends! Bet you're surprised to hear from me again so soon but I had to share this with everyone. I'm pretty stoked!!!!
I just received the November, 2012 issue of CardMaker magazine and... wait for it....wait for it.....if you turn to page 72 guess what you'll see....a card by yours truly. It's a Hanukkah card using a stamped image from Stampin Bella called 'Menorah Bella'.
As some of you may know, I teach card classes part time at Archiver's (a local scrapbooking store). This past weekend, I was teaching a class and one of the ladies told me she had gotten her magazine and recognized my name. It was rather exciting to have someone see my card without me showing it to them.
Here's a close up of the image used on the front of the card. She's colored with COPIC markers. (E00, E11, B24, B26, Y15, R29, E33, E35, E37). The glitter cardstock is from Michael's and it's the greatest - all the sparkle and none of the glittery mess (anyone who works with glitter knows that all you have to do is look at it and it's stuck to your face, in your hair, etc.).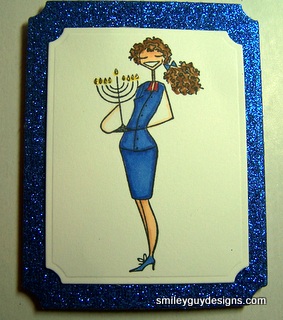 Here's a picture of the card along with the instructions and materials list. I just love how they always set the stage to make each card look fabulous!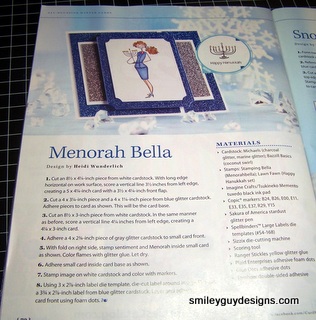 Here's a copy of the front of the magazine so that if you want to go to your local scrapbook store you know what to look for.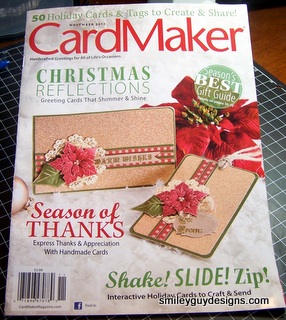 There's a funny story about this card. My original card had a different focal point - it was a Star of David and had the word 'Shalom' inside.
When the editor told me they had picked the card for publication she asked if I could change the focal point to remove the word 'Shalom'. Since they had picked the card I said 'sure, why not'. But I didn't have anything small enough to fit in the middle so I did a paper piecing technique and strategically covered the word. I sent it in and the editor loved it. Then a few weeks later I received yet another email advising that particular stamp was being discontinued from Stampin Up so they couldn't use it. She asked if I could do another focal point. That's the point when I frantically searched my stamp stash and found my lovely Menorah Bella.
I made the new focal point and sent it in. So, by the time the magazine actually came out I had no idea what the card would look like. I must say I think it turned out well...phew!!!!
Thanks for checking and hope to see you again soon!
Heidi