Happy Saturday y'all!! Is everyone enjoying this fall weather? In the midwest it's definitely fall. The weather is crisp and leaves are changing into the most beautiful reds, oranges and yellows! Pretty soon though the trees will just be 'nekked'! Even though fall is my fav time of year - I'm so glad I live in an apartment and do NOT, repeat NOT, have to rake said beautiful leaves.
I have to show you guys this picture....I took my Mom to the clinic/hospital on Sunday to have an MRI done...when I pulled into the parking lot there were NO cars in the parking lot near me. We were in there about an hour and when I came out look what I found next to me??? Seriously? There was NO other place for them to park? I have my Mom in a transport wheelchair and she gets in on the passenger side. Gee, I hope I didn't put any dings in their door!!!
Now on to some Halloween stuff. I made some tags for my co-workers at Assurant Health. I used a bunch of different washi tapes. If you don't know what washi tape is it's really cool. It's a very thin tape that comes on a roll like scotch tape or masking tape. It's really thin and can be torn or cut off the roll. They're repositional so if you don't put it down in the right spot you can pick it up and move it. Some of them are a little transparent so if you put one over another you may be able to see the pattern underneath. It's really fun and seems to be the big trend for the season.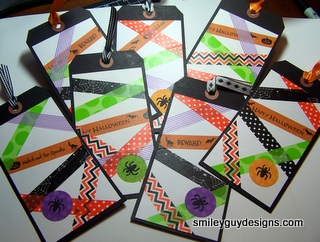 I just unrolled a bunch of the tape and cut the edges. I wrapped the tape around the back of the white piece of paper. On some of them I punched out a 1" circle and then a 1.5" circle out of pattermed paper and glued it on the back. I punched and adhered the black spider to the front. Then I realized that was a bunch of extra work. So then I decided to just punch a 1" circle of patterned paper and adhere it directly to the front and then adhered the spider. Cut out two steps and it all looks the same. Sometimes I get tunnel vision and have to do things the hard way....then a light bulb goes off and it's DUH....I coulda done it differently.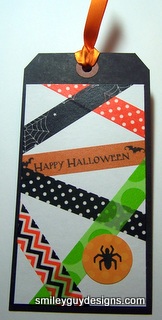 Here's a picture of the washi tapes rolls I used. Most of them are from Queen & Co. The orange one that has the words on it is from another company but I can't remember which one...sorry!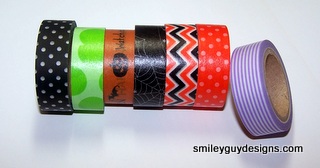 That's all for today. Thanks for stopping by and hope to see you again soon!
Heidi