Hi there friends! I hope everyone had an enjoyable Thanksgiving and didn't overeat tooooo much turkey and other goodies. I just finished another dinner of turkey leftovers and I must admit - a burger and fries sounds really good for dinner tomorrow night! I'm not a big cook but I make a mean Thanksgiving meal - I cook a Butterball turkey breast (afterall it is just me and Mom), stuffing, a couple of sides and some cranberrry sauce....luckily from start to finish it only takes about 3 hours - so I get to enjoy most of my day and have a good meal!
There is a stamp company called Lawn Fawn which has some really great stamp sets - I just love their whimsical images. Well, they have a contest going on right now where one winner from three different categories will have their cards displayed at their booth during the January 2013 CHA (Craft and Hobby Association) convention as well as their upcoming catalog. Below are two cards I'm entering in the 'alphabet' category. Hopefully I'll be able to do a couple of more projects before the 12/3 deadline.
The rules are really simple - only use specific stamp sets determined by Lawn Fawn, no patterned paper, but you can use any ribbon, buttons, etc. you want.
The first card is made using the 'Smitty's' alphabet set along with a scalloped EK Success punch and some Craftwork Candi dots.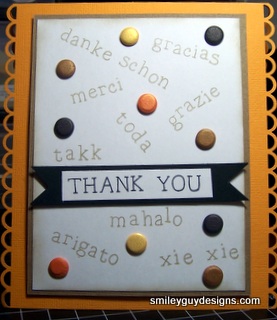 The second card is made using the 'Quinn's' alphabet stamp set, some COPIC marker coloring and twine.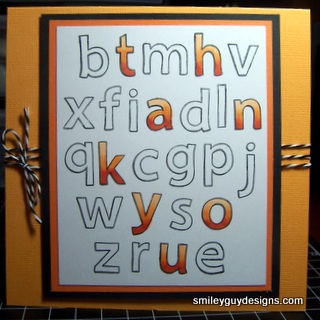 I'm sure there will be tons of great cards submitted for this contest - so, wish me luck!
Thanks for stopping by. Hope to see you again soon.
Heidi