I can't believe it's almost December. And we all know Christmas will be here before we know it. At least now when I see Christmas decorations in stores, in neighborhoods or hear Christmas music I don't feel like slamming my hand in the car door! When they start all of this the day after Halloween it's makes me want to run with scissors!!!!!!!!
I have this stamp set called Santa Stationary which includes stamps to create the following Santa's Official Nice List Declaration. I made a few of these for some people at work and thought it's perfect timing to post on my blog since Christmas is just around the corner.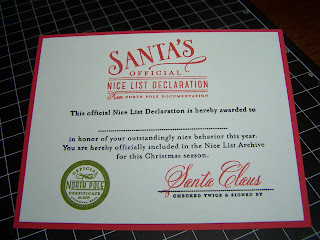 Each section of the declaration is a separate stamp image - I especially love the line under the Santa Claus signature which states 'Checked twice and signed by' There's a blank line in the center where I can add a name using a small clear alphabet set (clear stamps just line up so nicely). Here's an example of one with my niece's name on it.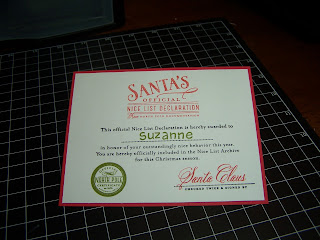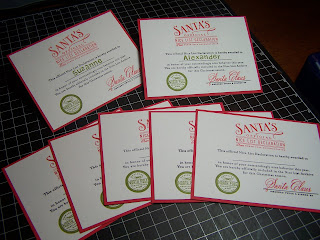 There are also stamp images that you can use on the actual envelope.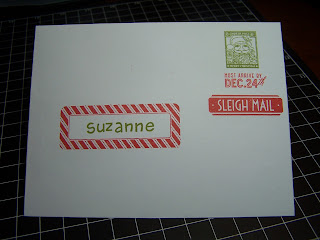 One of my friends at work said she was going to put the cards in her mailbox because her kids always go with her to pick up the mail. She'll open the mailbox and look surprised when she hands the cards to her kids...she says they will be soooooooo excited!
If you're interested in getting a Nice List Declaration for your child(ren) send me an email (
smileyguydesigns@gmail.com
) and we can work out something.
Thanks for stopping by and hope to see you again soon!
Heidi