Since I'm on a roll, I'm posting my second entry for the Paper Smooches Sparks challenge Design Team call tonight. Then I have another design in my head for maybe another entry!
The stamp set I used on this card is called 'Think Fast' and it's pretty fun. There's a big ole' sammich, an order of fries, a drink, pizza and some other images and sentiments. It's really cute...but don't play with it if you haven't eaten because it will make you hungry.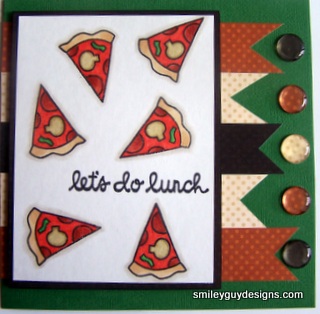 The pizza slices are colored with COPIC markers and I cut the banners out of Bo Bunny Double Dot Neutral Necessities paper pad. Did you know that to make perfect banners all you need to do is cut a slit up the center of the strip as far as you like, then make a cut from each of the corners to the top of the center cut...and voila your banner is even on both sides. The circle disks are made using matching dot paper and an Epiphany Crafts shape studio to punch out the little epoxy shapes.
COPIC markers:
Mushroom: E81, E84
Pepper: G14, G16
Pepperoni: E08, E19
Crust: E31
Sauce: R08
Shadow: W2
That's it for today....thanks for stopping by and I hope to see you again!
Heidi