Hello my friends! It's been a while...here's an update on my Mom....we've had a quiet few weeks which has been fabulous. She is doing well in rehab - in fact, she no longer needs speech therapy - she's off of pureed food and is now on what's called a mechanical soft food - which is real food but still soft (no steaks just yet). She no longer needs thickened liquids which is so much easier for her. She's still doing physical and occupational therapy and I have noticed a big difference in her ability to transfer from wheelchair to car and back, sitting on the edge of the bed, etc. So, things are looking up and getting better each day.
The card I'm showing today is done as an entry for the Paper Smooches Sparks challenge Design Team call. So far I have two entries so you'll have another post from me later tonight or tomorrow. I love the stamps from Paper Smooches - most of the images are so whimsical and fun to use. The stamp set I used for this card is called 'Hang Ups'. The image was colored with my beloved COPIC markers (BTW - I'm going to be taking the Intermediate Certification Class at the end of June with one of my good friends Valerie - aka ValbyDesign.com).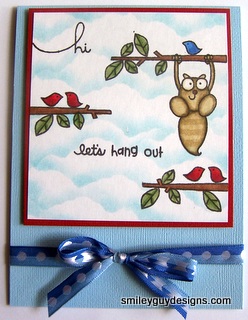 The clouds were done using a template from Heather's Hobbie Haven. I love her tutorials and she has a template on the left sidebar that you can print out of two sets of clouds. Print the template, cut out the clouds and use a sponge or fingertip applicator, and voila - you have beautiful clouds. Check out the template
here.
I used Tim Holtz Distress Ink in 'Tumbled Glass'. The ribbon is from my stash.
COPIC colors used:
Branches: E25, E27
Raccoon: E81, E84, E87
Leaves: YG63, YG67
Red Birds : R29, R39
Blue Bird: B24, B26
I hope you enjoyed todays card. Thanks for stopping by and hope to see you again soon.
Heidi