We're back!! It's August and the Crafty Chicks have another blog hop for you! The theme this month is Vacation/Travel.
As a reminder, the Crafty Chicks are a group of 9 (8 for this month) very talented designers joining together to showcase some fabulous projects and hopefully provide you with inspiration to create projects of your own.
Every month Crafty Chick's Blog Hop will have a different theme, and offer a prize to one lucky winner. In order to be eligible to win this prize we're asking that you leave some blog love (via comment) on each of our blogs. That's it, easy peasy right? Once you've left a comment on all the blogs, click 'Did It' on Rafflecopter at the bottom of this post.
The prize this month is a $30 gift card from Linnie Bloom Designs. Check out her site Linne Bloom Design You can follow her on Pinterest too. HERE

Elizabeth starts off our blog hop, you can check out Elizabeth's blog HERE if you want to start at the beginning of if you get lost along the way.
The blog hop runs for one week so you have until the end of day August 21st (midnight) to comment on all the blog stops; the winner will be announced on Thursday, August 22nd on Elizabeth's blog

HERE

We will also contact the winner, so make sure we have your contact information when you enter. Winner will have one week to claim the prize or another winner will be chosen.
You should have come to me from Nicole's blog HERE
Since the theme this month is vacation I decided to show a few of my scrapbook pages from my Disney trip a few years ago. I love the cover page for the scrapbook. I used the Cricut cartridge 'Mickey and Friends' and put together a bunch of the characters. I think it's so cute.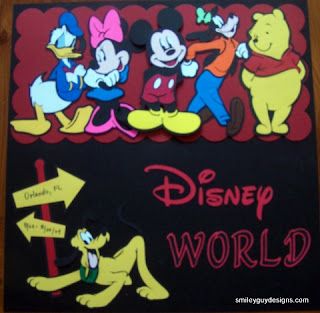 I took so many pictures during that trip that trying to pare down all the photos was a difficult task. I ended up with TWO albums! And here are a few more pictures from my trip. We went to the Magic Kingdom at the beginning of the week and then went back 4 days later and they had changed EVERYTHING in the park over to fall decorations. I LOVE Fall.
I thought this was a cute idea for a page....in one of the stores there was a WALL of Mickey's so I had to take a picture.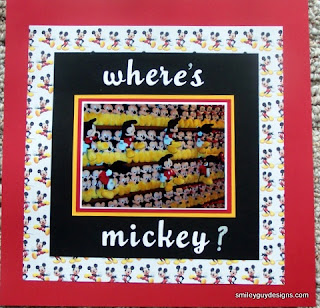 When I left Florida in 1999, Animal Kingdom wasn't open. So this was my first visit to AK....I loved it. This is a close up of a part of the Tree of Life. A-MA-ZING!
From here, the next amazing designer in the hop is Jessica and you can find her blog
HERE
If you're having a good time with this blog hop make sure to follow us on our blogs, Facebook, or any other social media the designers have set up. Also, please feel free to share with your friends.
Thank you for joining us for August's Crafty Chicks blog hop!
Heidi
a Rafflecopter giveaway