Hello my friends! It's time for another Paper Nest Dolls challenge. The theme for PNDC #11 is 'Shaped Card' Challenges - creating cards that are NOT square or rectangular. The challenge begins today, 8/19 and ends on Friday 8/30.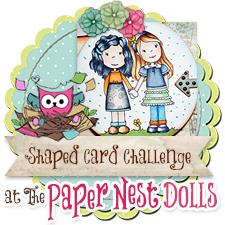 What's a challenge without prizes - there are 4 winners in total for each challenge - 3 winners chosen by our design team and these winners get one free PND digi of their choice - and 1 randomly chosen winner who will receive this awesome prize package
The image I chose for this challenge is called 'Ladybug Emma' and what better shaped card then to actually make it look like a ladybug. So here is the card when it's closed. Gotta love red and black right? Pretty easy to make, cut out one 6x6 circle in black and one in red. Cut the red one in half and attach to the black one at the top with a couple of brads.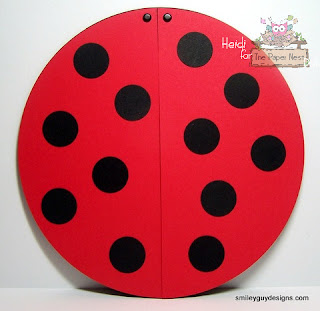 When you open up the little wings who should appear but lovely little Emma. She's colored with COPIC markers (see list at bottom of post). She's cut with Spellbinders Label 18 die. The sentiment is from a Stampin' Up stamp and die cut called 'Itty Bitty Banners'.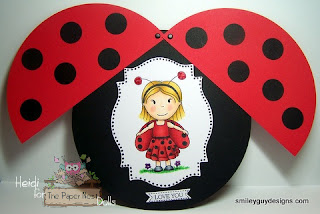 Here's a close up of Emma all colored in...note her little antennae sparkle with Stickles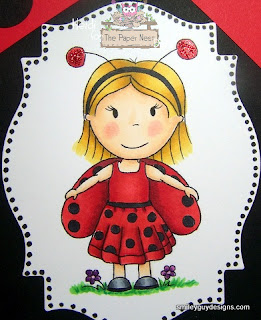 Please click this link PND Challenge to enter this challenge. Here are a few housekeeping items you should know when playing along:
You are not required to use a PND stamp in order to participate

Any type of project can be submitted, it doesn't have to be a card

Winners will be announced at the start of the next new challenge
COPICS used
Skin: E000, E00, E11, R20
Hair: Y21, Y28, YR21, YR24
Ladybug dress/wings: R24, R27, R29, R59
Grass: G14, G16
Flowers: V06, V09
Shoes; C3, C5, C7, C9
Headband: C9
Thanks for stopping by and hope to see you again soon! I look forward to seeing what you create!!