Welcome to Day 1 of the Paper Nest Dolls Winter Blog Hop!
We're doing things a bit different over the next 2 days. Instead of having the same write up for everyone on the hop we're all going to do our own write ups and if you want all the official BLOG HOP information you can go to
The Paper Nest Dolls Blog
. There you'll find a sneak peak of the new Nursery Rhyme collection as well as information on prizes available to win. You should have come to my blog from
Cathia's blog
and if you get lost along the way you can find the complete order by using the link above for The Paper Nest Dolls blog.
This blog hop is a TWO day hop and there are a TON of bloggers participating in it so you're going to see some fabulous projects along the way.
Now, I'm originally from Florida and yes, we've actually gotten snow before but it is no where near what I get now living in Wisconsin. I adore the FALL season and I love winter. I must admit I'm not too thrilled with the ice, but the snow is beautiful, peaceful and fun to play in. So, I was excited when Christine (owner and illustrator of these wonderful dolls) gave me the image "Downhill Racing Owen" as the image to work with today.
This is the first time I've ever made a shaker card. I watched all kinds of videos on youtube on how to make these (gotta love the internet). Here's my finished project.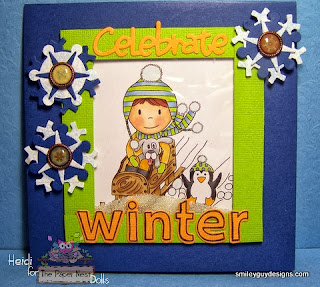 I'm not sure you can see the 'shaker' part in the picture above so I took a close up of the microbeads used.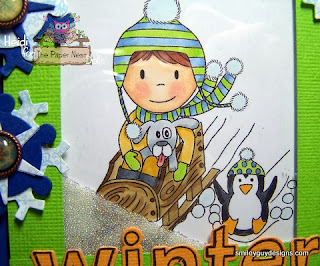 Since this was my first time with a shaker card I was a little frugal with the beads....I could have used a bit more - but note to self - once you put the shaker part together, it WILL NOT come apart so you can add more beads....live and learn.
The image is colored with COPIC markers and I used Quinn's ABCs with the matching dies and some snowflake dies from Spellbinders.
The next stop in the hop is Valerie's and her blog is
ValbyDesign
. All the images we've used in our projects are available in
The Paper Nest
store.
I hope you enjoy this blog hop over the next two days and if you leave some blog love on EVERY stop for BOTH days you could win some amazing prizes from May Arts, Doodlebug, Graphic 45 and more. Winners will be announced on Friday, October 18. As a special treat, Christine will have a free digital image for everyone who completes the hop as well.
Thanks for stopping by and hope to see you again,
Heidi