Hello my friends! It's a new week in a new month!! Happy June 1st!
I have a new challenge inspiration card for the Paper Nest Dolls June challenge. Today I'm using a cute little image called 'Dress Up Owen'. Since Father's Day is in June this seemed like the perfect project for this month. You can find the stamp
HERE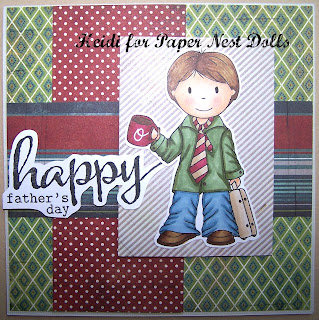 I used a different photo editor called Pic Monkey and I'm not sure I like the results. I had my laptop fixed and my Picasa photo editor was accidentally removed. I thought I would try something new....think I may be going back to Picasa.
Don't forget, the top winner will receive a prize pack varying each month and to be considered for this prize you must use a PND image. The winner this month will be able to select 7 digital images of their choice from The Paper Nest Dolls shop (check it out HERE). Add a direct link for your project to the challenge blog HERE
COPICS Used
Skin: E11, E21, E00, E000. R20
Hair/Shoes: E59, E57, E55
Jeans: B97, B95, B93
Shirt: G99,, G94
Tie/Cup: R89, R39, E43, E42
Briefcase: E43, E42, E40
Other Supplies
BasicGrey 'Oliver' paper pad
Winnie & Walter 'The Big, The Bold and The Happy' stamp set
Thank you for stopping by and I can't wait to see what you create.
Heidi