Happy Memorial Day weekend my friends! Hope everyone is enjoying a nice long weekend! I know I am! It's beautiful weather outside and my cousin and his son are in Milwaukee this weekend and I get to see them!!!!!
I've previously shown you updates on two of my three cross stitch projects and now it's time for my third one. It's a project called 'Save the Stitches' and while it includes a bit of cross stitching it's mostly done with specialty stitches (a lot of embroidery). It's a unique blend of 131+ blackwork patterns done in 24 blocks. The picture below is what the finished piece looks like with only 19 patterns done. The picture below is actually on it's side with the 1st block appearing in the bottom left corner.....It's an amazing project!!!!! And it is an absolutely FREE pattern on the internet.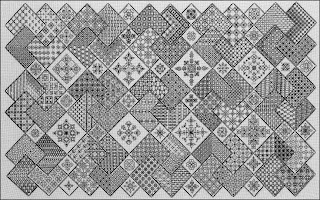 So here's my update with just working on it for one week. Started out cross stitching some of the block frames.
Then starting to fill in some of the blocks. Most of the blocks have metallic in them (copper, gold or silver) and several of the blocks will have beads on them at the end. I can't do them up front because I don't want them crushed when I'm moving my Q-snap/hoop around....
This is the first block officially finished.
In the week of working on this I managed to get the first two blocks finished. I could have continued working on it because it's so much fun....but with two other projects in my rotation (Twisted Band Sampler and Blue Dragon) I needed to put it away and give the others fair time.
Thanks for stopping by.
Have a safe and happy Memorial Day weekend!
Heidi