Any Monty Python fans out there? I believe 'and now for something completely different' is one of the catch phrases from their comedy routines....along with 'nudge, nudge, wink, wink, Bob's your uncle'. I'm not a total fan but I must admit some of their stuff is hilarious while other things just go over my head.
Oh well, enough about that....what I want to share with you today is something I find really fun to do. Over a year ago a customer came into Archiver's and asked if we had special paper and pens to do something called 'zentangle'. I had NO idea what that was and she brought up some samples on her phone. I must admit
I was intrigued. I went home that evening and spent about 3 hours on the internet researching it. I found all kinds of websites showing tons and tons of different patterns. I went to Hobby Lobby and bought an artist's sketch pad and some fine tip black pens and started drawing all the patterns I liked.
For those of you that have no idea what zentangling is.....it's pretty much doodling with a mission. You've all done it.....when you're on the phone with a pad and pencil, or when you're in a meeting with a pad and pencil...drawing little patterns all over your paper. That's zentangling.
Here are some of the bigger zentangle pieces I did when I started in 2010.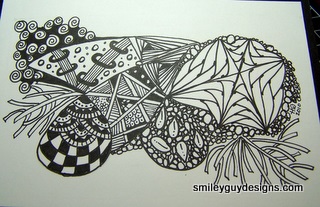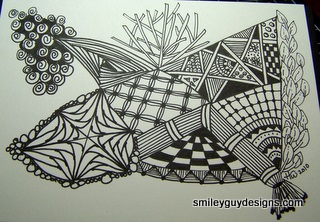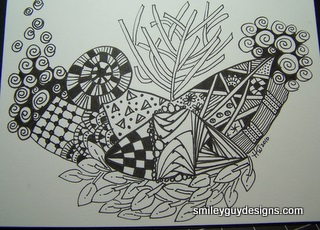 I get so excited when I find/learn something new that it becomes contagious. My manager at Archiver's got into it too (big shout out to Megan), she bought a sketch pad and was copying the patterns from my book. Then one of my co-workers (big shout out to Valerie too) got so involved with zentangling that she designed and created her Christmas cards.
What's great about zentangling is that the only supplies you need are pad and pen. I carry a small pad with me when I travel that has all the different patterns I love and blank pages so that while I'm in the airport I can 'doodle' when the mood hits me. The whole thing about ZENtangles are they're supposed to be relaxing...I'm not quite at that point....while I do find it somewhat calming to do, I'm still a little amped up trying to figure out what pattern I want to put where...it's not quite the free flowing out of my fingertips relaxation yet....but I'm working on it.
They also make great gifts...at least I think they do. I made this photo tray using ATC trading cards and drawing my favs on them for my Mother for Christmas in 2010. She thinks I'm really talented (no bias there, right Mom?) and wonders where I got this passion for all things crafty.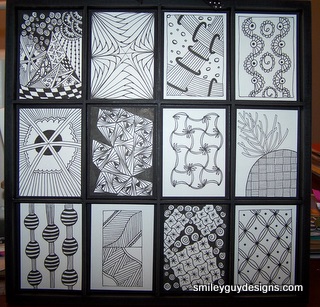 That's all from the land of black lines on white paper....I'm in the process of designing my Valentine Day card - I'm up to three versions right now...so hopefully I'm zeroing in on something I'll be happy with. I'll be sure to share what I come up with in my next installment.
Thanks for joining me....
Heidi