Hi everyone....
Well, Christmas is over and New Years is now but a memory and we can sit back and enjoy what 2012 has to offer. For me personally 2010 and 2011 were difficult and trying years so I've got my fingers crossed that 2012 is a much better year. So far so good. It's now the 8th of January and where I live in the midwest we've had no snow to speak off. Only a slight dusting of snow twice this season. Of course I have just jinxed it and should probably send my apologies now to the entire midwest region....sorry!!!!
Since we've just finished with some pretty busy holidays and I think it's too early to start posting Valentine's stuff....I think I'll just take a breather and post some cards that have nothing to really do with any holidays inparticular.
This first image is a set of thank you cards that I made. They are 3" x 3" cards and I just LOVE that size card. It's a perfect size to leave in someone's briefcase or lunchbox, etc. It makes a perfect little card to attach to a gift and even works well if you make a set to give someone as the gift. The stamps are a mixture from Stampin' Up's 'Just Believe' and 'Pocket Silouhette' sets. The scalloped background for the purple card is from a set I can't find so I don't have the name or vendor. The papers are from my stash of scraps. That's another thing I LOVE about these 3" x 3" cards.....you can use scraps to complete them. Woo-Hoo!!!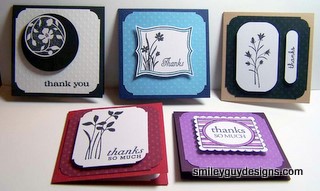 The next image is one for our furry friends. The dog is an older die cut from QuicKutz (now Lifestyle Crafts) and the papers are from 'Max and Whiskers' by BasicGrey. Isn't he cute???!!!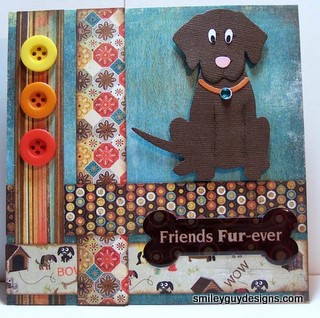 And because every grouping is best handled in odd numbers.....here's a third image for you. I believe the stamp is from CC Designs and her name is 'Heidi' - she's a pixie stamp and she's sitting in flowers. I had to buy this stamp because a) she's got my name and b) she's just so darn cute sitting the flowers with her little golashes. The papers are from 'Lime Rickey' by BasicGrey and the border punch is 'Arch Lattice" from Martha Stewart.
That's all I have for you today. Thanks for stopping by. Have a great 2012!!!!!
Heidi