Happy Sunday everyone! Today in the midwest was a wonderful day....it was pretty warm for this time of year - I think we were in the low to mid 60's. I was able to open up the sliding glass door and get some fresh air in my apartment.
The deadline for the Lawn Fawn CHA challenge contest is tomorrow, 12/3 at 10pm EST. While at my scrapbooking Christmas party yesterday I stamped a bunch of images from my friend Valerie's 'Critters in the Forest' stamp set. Today I worked on my last entry for the Lawn Fawn challenge. Here's what I came up with.....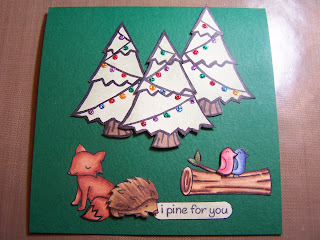 I made the tree images into Christmas trees by drawing in a string of bulbs and coloring each one with a COPIC marker and then using matching stickles to give them some bling!
Nothing else to report since my post from yesterday. I hope you enjoyed my entries for the contest. I'll keep you posted on the outcome. Wish me luck!!!!
Thanks for stopping by - hope to see you again soon!