Here's my second post today.....it's called 'Make a wish' and isn't that a perfect sentiment for entering a contest??!!
Using the same 'Critters Ever After' stamp set I created this cute little dragon!!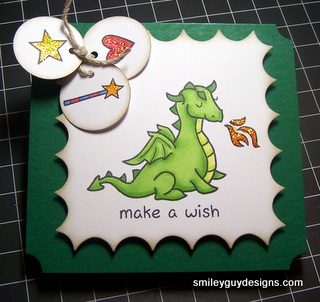 The die cut is an inverted scallop - doesn't it look cool? Then I mirrored it in the corners by using one of my We R Memory Keepers Corner Chomper.
Today I went to a Christmas scrapbooking holiday party at my friend Debbie's house. It was so much fun, I really hated to leave. I wish I could have stayed until the end but I needed to get home and take care of my Mom. It was wonderful to get out of the house for a few hours. My friend, Val, was there and she's been entering the Lawn Fawn contest too....and she had one of her critter sets with her so I was able to stamp some images using her set....I have to come up with a design using them and I need to do it by Monday, 12/3....that's the deadline for the contest. Wish me luck!!!
Thanks for stopping by...see you again soon,
Heidi